We at Luther Memorial serve the community, the neighborhood, and the world in a wide variety of ways.
We make quilts for Lutheran World Relief, layettes for new mothers, and school kits for children in need.  We provide meals and overnight accommodations for homeless women and children in partnership with Mary's Place day shelter.  We provide sack lunches every weekday through our Operation Lunch Bag program.  We invite all to join us at breakfast on Sunday mornings.
Operation Brown Bag- What goes in a lunch?
Ever wonder what is in the sack lunches we hand out Monday-Friday, 9-Noon? Our volunteers try very hard to have a well-rounded sack lunch for the hungry that come by for this program.  The lunches are made out of these options, depending on the donations we receive from you! 1 of each from the following goes in a typical sack lunch.
Proteins – Small can of Vienna sausage or tuna or a tuna or chicken salad lunch/cracker kit. Must be able to be opened without a can opener.
Fruit – Fruit cup, applesauce, raisins, or fruit leather.
Drink – Juice box, or pouch. Additional bottle of water , when available.
Dessert – Pudding cup or small pack of cookies.
Grains – Small bag of chips or package of crackers, and/or a granola bar.
Care Items – In the summer we hand out sunscreen.
We are so appreciative that our congregation has continually donated to this important outreach ministry to our neighborhood!  Some days we have as many as 10-15 hungry people that come to our window, needing a meal. Donations can be dropped off at LMLC during office hours, M-F; 9 am-12 pm.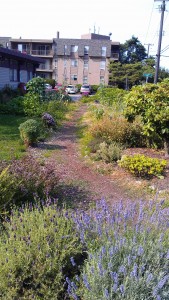 Giving Garden – We offer our garden space free of charge to our neighbors who wish to have a garden.  It is a joy to see what grows there each season!  The students and parents from Broadview Thomsen K-8 school also delight in walking through the garden path on their way to and from school.  There are no strings attached, unless pole beans are climbing up 'em! And this is not an effort to proselytize, so we're clear. We just want to be good neighbors and use our land well.
To get a plot, please fill out an application. They are given on a 'first come, first serve' basis each season. (Click here for the application and guidelines, or stop by the church during office hours.) Applications can be emailed to garden@luthermemorialseattle.com, dropped off at the church office, or mailed to:
Giving Garden
Luther Memorial Lutheran Church
13047 Greenwood Ave N
Seattle, WA  98133